Make Your Own Marble Masterpiece
Design and create your own beautiful rolling ball sculptures that live on your wall.
Amazing rolling ball sculptures are usually only found in museums. A Wonderstructs kit allows you to create and display a beautiful art sculpture in your own home.
We Love Wonderstructs
We were browsing through Kickstarter, appreciating people's ingenuity when we saw this. Andy and Keith Johnston had an idea:  Wonderstructs! A marble run made out of wood. It didn't take much for us to sign on as a backer and some time later, after what we imagined to be long hours and months of work on their end, our box filled with excitement arrived! We are quite impressed with this "king of all kits" and we intend to change the installation every few weeks.
-Water Street Academy
The below examples were all constructed with a single kit!
What's in Your Wonderstructs Kit?
Your kit includes all the pieces needed to construct these parts.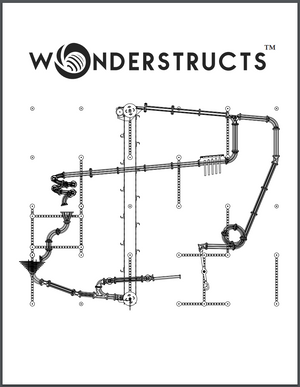 Wonderstructs Laser Cutter Plans
Sale price Price $50.00 Regular price $0.00
About Wonderstructs
In 2016, we were reminiscing about the things we loved to do as kids. The two of us grew up in Tennessee. As kids, we often visited a local science museum - the Oak Ridge Museum of Science and Energy. Our first and longest stop was always at the Rolling Ball Sculpture. There are lots of toys you can buy that let you build rolling ball sculptures, but most of them are small in scale and made of plastic. We didn't want to introduce a bunch of new plastic parts into the world. Larger installations found in museums are usually made of metal, require welding, and are very difficult or impossible to reconfigure. We wanted to create something that allows kids and adults to construct their own large-scale rolling ball sculptures, and to have fun building and re-building new and different creations.
In 2017, we ran a successful Kickstarter Campaign to fund the initial orders of Wonderstructs, and in 2018, we delivered those first kits to our backers.
About Us
Andy Johnston
I am a mechanical engineer working in product design in the San Francisco Bay area. I have worked on products such as the original TMobile Sidekick mobile phone, the Apple Titanium notebook, and the Sawstop tablesaw safety device. It all started with the inspiring toys I played with as a child — the ones that challenged my creative problem solving capabilities. I still play with toys, only now with my three children, who have been instrumental in test playing with Wonderstructs!
Keith Johnston
I am a software developer who has worked in both enterprise software and in the computer game industry. My first published computer game was TubeTwist, a game involving connecting parts very reminiscent of Wonderstructs. I later moved to Eugene, Oregon, where I helped create another game involving complicated contraptions: Contraption Maker. I am excited to be helping Andy with the Wonderstructs project wherever I can: helping set up the business, advertising, brainstorming ideas for parts, and testing sculptures.